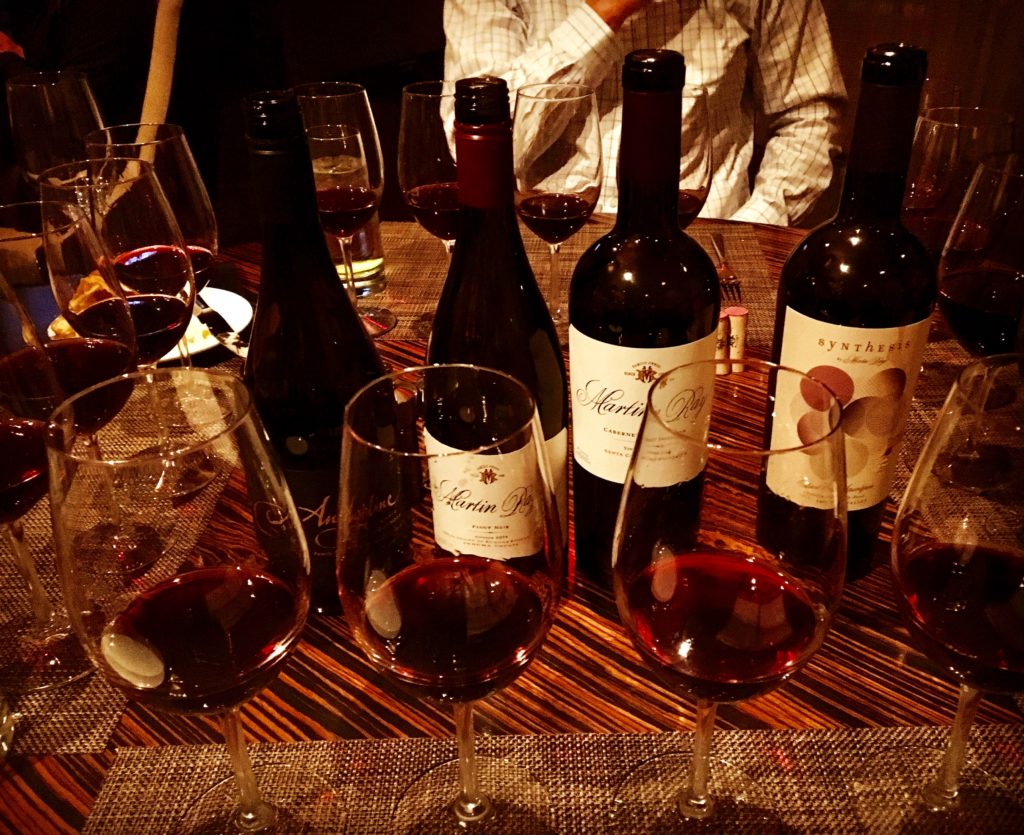 I have been a big fan of the incredible wines of Martin Ray Vineyards for many years. In my humble opinion Martin Ray Vineyards makes some of the best wines not only in California, but in the world. Their wines are constant 90-95 point scores in Wine Spectator and Wine Enthusiast magazines year in and year out. And here is the biggest reason I love Martin Ray:
Martin Ray wines are great buys for the quality and priced for the average consumer!
In fact I dare say the overall portfolio of Martin Ray Vineyards and Angeline Vineyards are some of  the very best values in wine today.
My friend Robert Larsen of the Larsen Projekt said he was coming to Dallas, and he invited me to have dinner. I said yes immediately because Robert is such a great guy. He knows his wines, very funny and engaging, and never forgets that wine should be fun and not always so serious. He let me know he was bringing Winemaker Bill Batchelor and samples of the great wines of Martin Ray. So you can imagine that I was beyond excited!
I met Robert and Bill at Dallas Chophouse in downtown Dallas. I've heard nothing but good things about the Dallas Chophouse, but had never actually visited. So I was thrilled when Robert suggested this beautiful place. The atmosphere was dark and luxurious, and the aged steaks were delicious. I highly recommend the food if you are in downtown Dallas and want a great meal.
I love meeting a winemaker personally. I have to admit I am somewhat of a wine geek. So when I get the opportunity to chat with them and pick their  brains, I am in my own personal heaven.  And I have to tell you; In my opinion Bill Batchelor really knows his craft. He has a very large portfolio to take care of with Martin Ray and Angeline and he personally gets involved in all aspects of the winemaking process. Yet he is very easy to talk to and you can really tell he has a tremendous passion for his craft.
HISTORY:  Martin Ray Vineyards history dates back to 1943 in the rugged Santa Cruz Mountains in California. The current home was originally Twin Fir Winery and established by William Hill in the geographic heart of Russian River Valley in 1881. This makes them one of the oldest continuously operated wineries in California. This winery later became Martin & Prati and was well known for good jug wine.
The current owner Courtney Benham purchased Martin Ray in 1990. He then moved the brand and custom crush facilities at Martin & Prati and purchased the property. He then changed the name to Martin Ray in 2007. In the coming years Courtney modernized practically every facet or production, and also turned the property into one of the most beautiful wineries in the area. I have made attempts to visit on my winery trips in the past, and I cannot wait to visit on my next trip!

We began the evening tasting through the Angeline Vineyards wines. These are wines that Martin Ray produces and are more "Value Priced".
2016 Angeline California Rose of Pinot Noir:  Both whole-cluster & saignee method used to produce this dry rose. Floral notes along with watermelon, nectarine, and ruby red grapefruit. Crisp and acidic. Perfect for the pool or beach!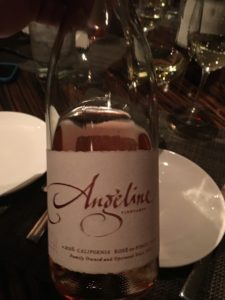 2016 Angeline Sonoma Coast County Sauvignon Blanc: Mostly Russian River Valley fruit with Dry Creek sourced as well. Not grassy like some SV, more Sonoma-like. Aromas of white peach, nectarine, and green apple. Minerals are present, but not overwhelming. Crisp, clean and lingering finish of green apple and peach. Ave retail will be in the $12-$14 range so a great summer everyday wine.
2016 Angeline Reserve Pinot Noir: Fruit sourced from Mendocino County, Russian River Valley, and Carneros.  Silky tannins and med light body.  Juicy strawberry, raspberry, black fruits, and cherry cola dominate with a clean finish of caramel and black fruits. Nice wine!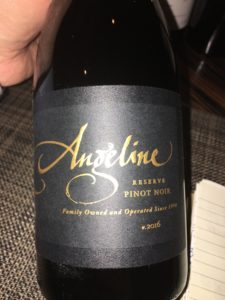 2015 Martin Ray Santa Cruz Mountains Bald Mountain Vineyard Chardonnay: Fruit is 100% from the steep hillside vineyards of Bald Mountain. Cool climate and high elevation define this chardonnay with crisp acidy and an underlying minerality. This is a graceful and elegant wine with fruit notes of key lime, golden apple, asian pear with crème brulee and hints of vanilla. 40% new French Oak, and lees are sired bi-weekly for first year to enhance complexity. 250 cases produced. Ave retail $35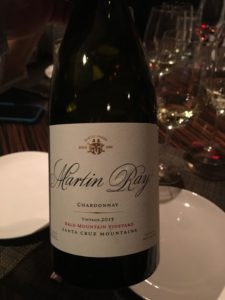 2015 Martin Vineyards Green Valley of Russian River Valley Chardonnay: Fruit from possibly my favorite AVA in Sonoma; Green Valley AVA. Only 300 cases produced so if you get your hands on this buy several! Hand picked, whole cluster pressed. Racked in French Oak barrels for fermentation. Lees stirred bi-weekly to maximize mouthfeel. Aged 12 months on 40% new French Oak. Traditional and elegant chardonnay. Complex layers of green apple, honeydew melon, key lime, grapefruit, and vanilla cream. NOT a butterbomb! Crisp, med-light body, great acidity and long finish. AT $30 suggested retail, not cheap but worth every dime.
2015 Martin Ray Green Valley of Russian River Valley Pinot Noir: Primarily sourced from the incredible Dutton Ranch in the heart of the Green Valley AVA. Primarily Dijon Clones from Marty's Vineyard and Hallberg Vineyard. Basket pressed and put into barrel for 12 months in 50% new French Oak. Anyone that knows me has heard me claim: "Russian River produces some of the finest Pinot Noir in the world", and I believe this to be true! Med light body, bouquet and notes of cranberry, red cherry, boysenberry, Jasmine and vanilla, baking spices. Juicy palate and fine silky tannins. This is a truly great example of Russian River Pinot Noir, and I love this wine. Average retail is $40, and this may be a little rich for some. I for one think this is a steal considering this is Dutton Ranch Pinot Noir! Only 250 cases produced.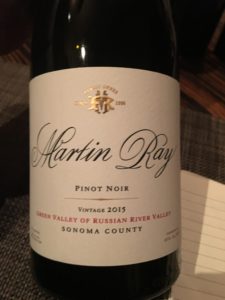 2014 Martin Ray Santa Cruz Mountains Cabernet Sauvignon: Fruit comes from the tiny plot on the South face of Ben Lomond Mountain, from the distinguished Bald Mountain Vineyard. This site produces small compact clusters, and the long growing season allow the grapes to reach maturity late in the season, with deep color, concentrated flavors, and bright acidity. This is a big bold cabernet, with notes of ripened black cherry, boysenberry, mushroom, lavender, and dark chocolate. Healthy solid tannins and great acidity and graphite minerality give a strong hint of long cellar time possible for this big wine. In fact I would love to have this wine again in 10 years because it should age beautifully. Only 450 cases produced. Suggested retail of $75.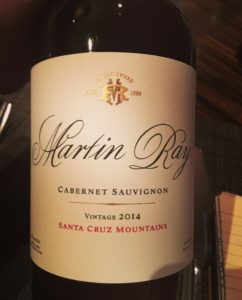 2014 Martin Ray Synthesis Napa Valley Cabernet Sauvignon: This is a blend of 90% Cabernet Sauvignon, 6% Cab Franc, and 4% Petit Verdot. Fruit is sourced from the best of the best from vineyards in Rutherford (35%), Stags Leap District (30%) and Diamond Mountain (20%) for a very special "Synthesis" of Napa Valley Cabernet Sauvignon! This Cali Cab begs for a big juicy steak, and that is what I enjoyed this wine while cutting into a big delicious juicy Ribeye at Dallas Chophouse. Dried herbs, black cherry, and baked plums on the nose. Chewy tannins are evident, but not nearly overpowering as you normally find in mountain cabernet. Blueberry, black cherry, red plum, along with ever so slight  oak and dried figs. I highly recommend this cabernet sauvignon.  At $50 suggested retail that is a great buy for a true Napa Cab! 2200 Cases total production.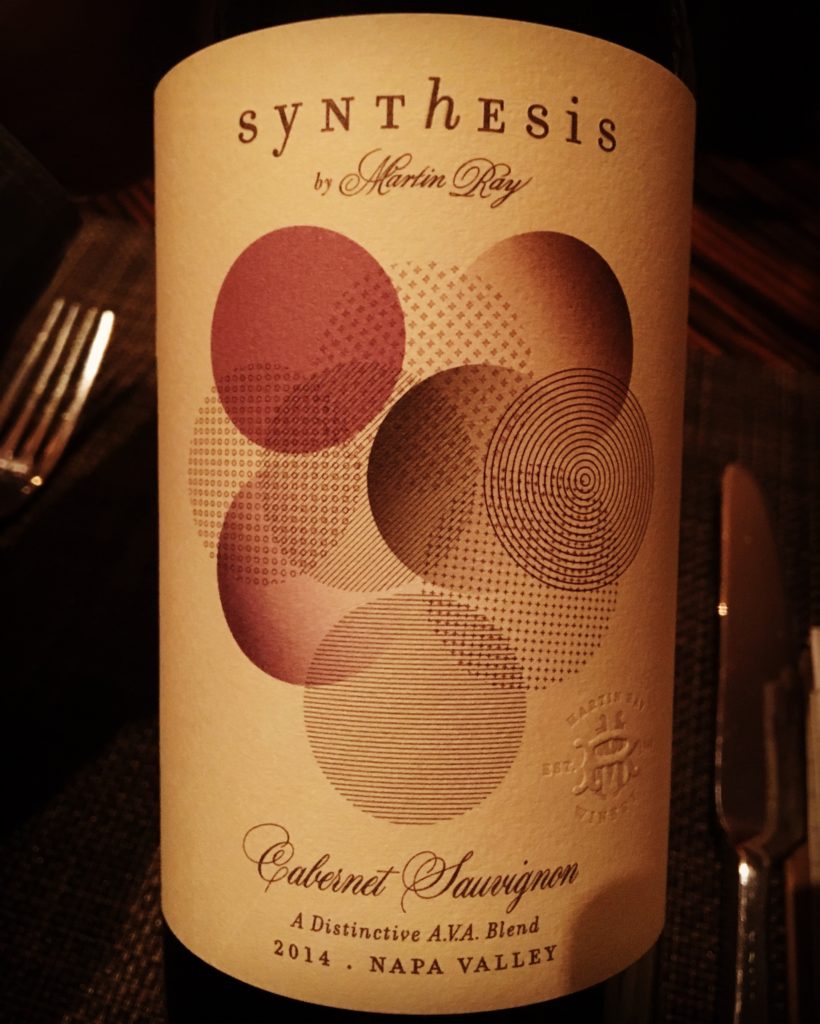 Thank you again Robert Larsen and Bill Batchelor for a wonderful evening, and thank you Dallas Chophouse for the wonderful dry aged steak!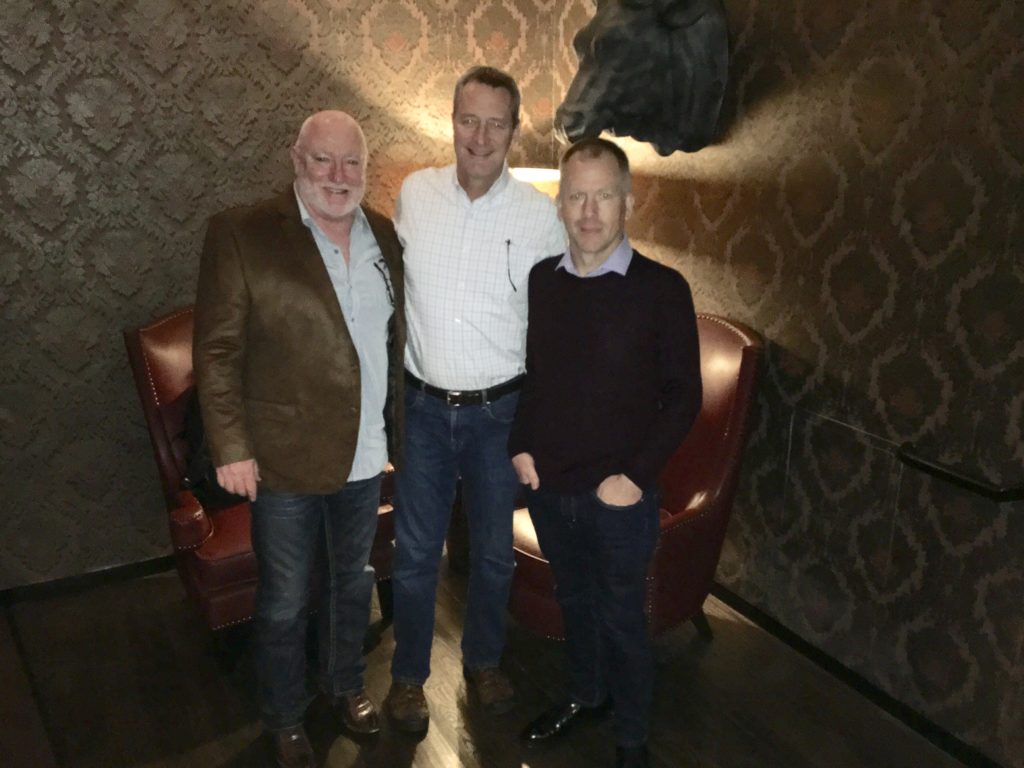 And thank you to my followers for reading and sharing this post. If you would like more information on any of the wines poured and how to find them please contact me at friscokid8758@yahoo.com.
And please…leave a comment below so I will know you were here, and come back from time to time!
Terry Hill is the TEXAS WINEAUX!